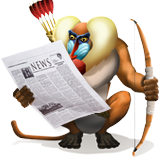 Download Press Kit for Baboon (zip, 1.9 MB)
Factsheet
Location: New York, NY
Launch Date: September 12, 2013
Price: Free
Platform: iOS
Contact: Michael Sarill
Email: michael[at]baboongame[dot]com
Phone:(415) 390-6408
Product: App in iTunes
Website:
baboongame.com
Social: twitter.com/Baboon_Game
Team
Description
Baboon is an eco-focused technology company whose mission is to spread awareness on ecological issues and support ecological causes. In September of 2013, Baboon released its signature cause-based iOS game which spreads awareness on the captive wildlife crisis and supports a sanctuary for rescue animals.
Our Story
Baboon was founded in October of 2012 by Michael Sarill. His first recruit was the exceptionally talented game artist, Jiyoun Lee-Lodge. With no outside funding or investors, they worked together for 6 months exclusively on character development, illustratons, habitat design and game art. The primary game design goal was to produce a timeless visual identity that connected emotionally with players in a powerful way. Character illustrations were to be fun and engaging, while staying as realistic as possible. buy cialis online cheap
As the design phase came to a close, Oleg Chornenko joined the team to lead out iOS Development. Veteran gamer, Justin Jordan, rounded out the team as the Level Designer.
In October of 2013, after over a year of development, the team launched their signature mobile gaming title on the iOS App Store.
The Game
Baboon is a casual point-and-shoot action title in which the the main character must protect animals from poachers using a bow-and-arrow.
Players encounter fun rushes of animals on 30 wild habitats. From rhinos and elephants in the jungle to polar bears in the Arctic, baboon must protect various wildlife from mischievous poachers.
Motorcycles, helicopters, cannonballs and jump-stilts are among the poacher's sneaky attempts to evade arrows.
Stellar graphics & casual point-and-shoot gameplay combine for a magical gaming experience. Kids, in particular, love feeling empowered around protecting animals and typically giggle when they accidentally hit an animal.
A percentage of game proceeds is donated to The Wild Animal Sanctuary, a refuge for exotic and endangered captive wild animals in Keenesburg, Colorado. The sanctuary provides a lifelong home to over 280 lions, tigers, bears, wolves and other large carnivores roaming freely in natural habitats.
Baboon is 100% indie with no outside investors or publisher. The game also has no in-app-purchases. Baboon has organically reached over 21,000 players!!
Launch Trailer
Gameplay Videos
App Store Screenshots
Download App Store Screenshots (zip, 495k)
The Wild Animal Sanctuary
Download TWAS Images (zip, 3.5 MB)